A proactive maintenance strategy costs up to 77% less than a reactive maintenance strategy. When investing in monitoring your equipment so that you can detect issues before they become problems, you'll consider the nuisance areas you already know among your high-efficiency electric motors, power transmission components, gear drives, and more. In order to optimally set up your equipment monitoring strategy, you can take advantage of the experience of professionals who design and manufacture your equipment's components, who have expert experience with optimized electromechanical powertrains and technical IoT expertise.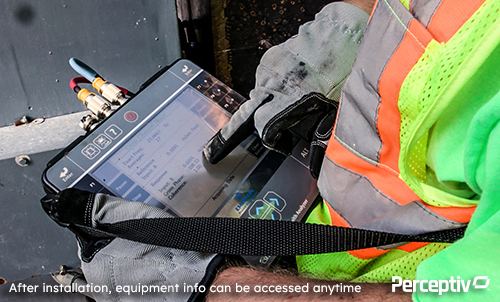 Many companies just "sell" sensors. However, the Perceptiv™ services team has found that monitoring an application and delivering actionable insights to help you meet your production demands is much more helpful. We understand the products and the applications, and can help ensure your equipment runs as efficiently and reliably as possible across a range of criticalities throughout your facility. The Perceptiv services team has special expertise of crushers, conveyors, screens and vibratory equipment, pump systems, kiln drives, blowers/fans and electric motors, and has no minimum quantity requirement for monitoring systems. The team is flexible and has a range of different sensors available to provide low or high resolution data as needed, and can build a "right-sized" hybrid solution based on your equipment's complexity, which can be easily expanded as your operation evolves.
For an example of early predictive maintenance, the wireless Pro S3100 sensor can provide enhanced resolution equipment health data via vibration and temperature monitoring. Via the Perceptiv dashboard, Pro S3100 sensors collect data on vibration trends and low- and high-frequency banding with multiple vibration parameter configurations, as well as temperature and motor current trends over time. Automatic alerts via email and/or text will let you know if any readings fall outside of your acceptable parameters. And with IP67-certification for ingress protection, Pro S3100 sensors are ideal for dusty applications, have a range of up to 1 mile from the gateway, and 3-5 year battery life with field-replaceable battery.
When you're ready to explore proactive maintenance strategies, the Perceptiv services team is ready to apply their expertise to deliver you optimal performance and greater efficiency. To schedule time with a specialist, visit regalrexnord.com/perceptiv.
You are currently subscribed as

memerick@northcoastmedia.net

.
If you wish to leave this mailing list, simply unsubscribe. Refer to our Privacy Policy.
Pit & Quarry is a property of North Coast Media, LLC.
1360 E. Ninth St., 10th Floor, Cleveland, OH 44114
© 2022 North Coast Media. All Rights Reserved.
Reproduction in whole or in part is prohibited without written permission.